2023 Virtual Festival
May 25, 2022
Financial Health and Wellness: Tips to be Financially Fit
Presented by Ally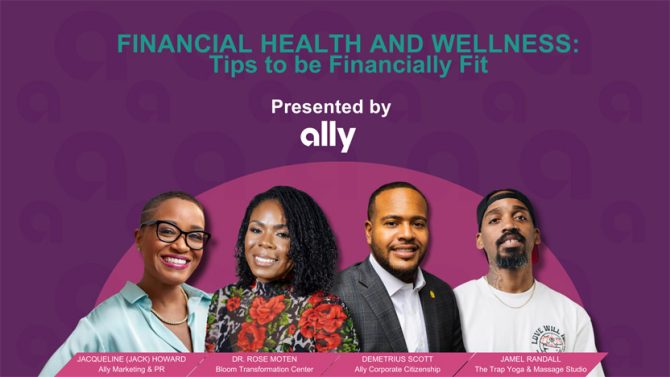 Come join Ally Financial and a powerhouse panel as they explore how economic anxiety may be showing up in your life, its impact on your physical, mental, and social well-being, and how to manage it.
Panelists: Demetrius Scott, Financial Education, Ally, Dr. Rose Moten, Founder of Bloom Transformation Center, Jamel Randall, Owner of Trap Yoga Studio & Mindfulness Expert
Moderator: Jack Howard, Financial Health & Wellness, Ally
Hip Hop Destinations: The Conversation
Presented by Andscape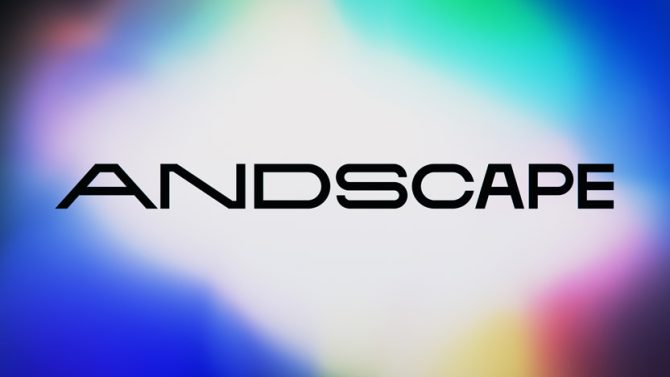 The regional differences in hip hop have always created rich conversation among artists and fans. What makes each locale different factors into what makes the culture great as a whole. With that in mind, we gathered six hip hop luminaries to discuss the finer points of what makes each of their cities an essential piece of the culture's landscape.
Series featured guests: Fuzzy the Connector, Kim Osorio, Symba, Icewear Vezzo, Miabelle and Baby Jade
Hitting the Right Note: Creating Access for Emerging Composer Talent in the Industry
Presented by Comcast NBCUniversal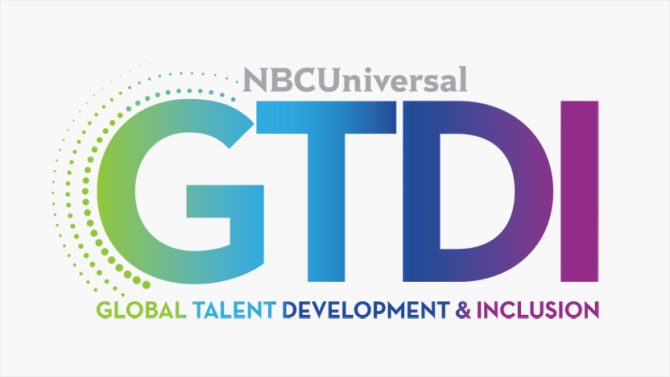 This panel will feature current participants and successful alumni from GTDI's flagship program, the Universal Composer Initiative and highlight their journey as they take the next steps in their careers in the industry. The discussion will aim to showcase some of our emerging diverse talent, as well as provide perspective on how they view access and representation in the industry.
Panelists: Jognic Bontemps, Pierre Charles, Raashi Kulkarni
Moderator: Angela Leus
Keeping It Real: Maintaining Mental Wellness as a Creator of Color
Presented by Comcast NBCUniversal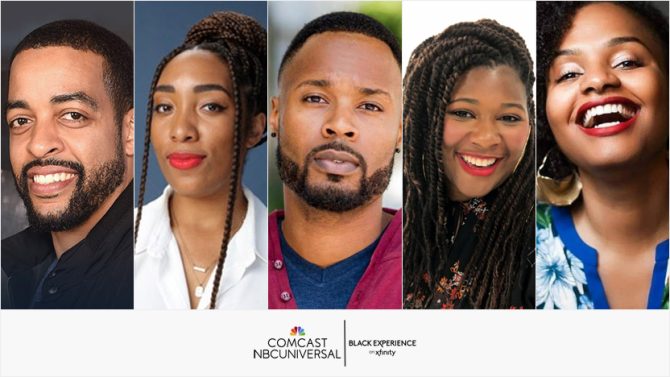 While inclusion efforts in the entertainment industry have improved, many people of color still find themselves as the only diverse voice in a room. The stress of being "the only" while also striving to have your ideas heard and implemented can greatly impact a person's mental and emotional health. During this conversation, alumni from NBCU LAUNCH's writing and directing programs for diverse talent will discuss the nuances of balancing their experiences on set and in the writer's room and maintaining their mental wellness.
Moderator Dr. Tara Doaty, Sage Wellness Group
Use IMDbPro to Navigate Your Career
Presented by IMDb
IMDbPro, the essential resource for entertainment industry professionals, invites you to join a special virtual webinar to learn more about using IMDbPro to find your next projects, discover people to collaborate with and promote yourself and your career. Explore new features like how to self-submit and manage the display of your demographic information, including gender, race/ethnicity, birth year, and more, to be discovered by fans and industry decision-makers on IMDb and IMDbPro. Try IMDbPro for free at http://www.imdbpro.com.
Since its inception, the highly regarded American Black Film Festival has become a cornerstone for diversity in Hollywood. It has premiered the work and supported the careers of many of today's most successful filmmakers, actors, writers and stand-up comedians, and is recognized as a standard-bearer of excellence for Black creativity. Continuing its legacy to empower Black artists and showcase a wide range of entertainment content, the ABFF features studio premieres, independent films, master classes, panels, talent showcases, networking and hospitality events.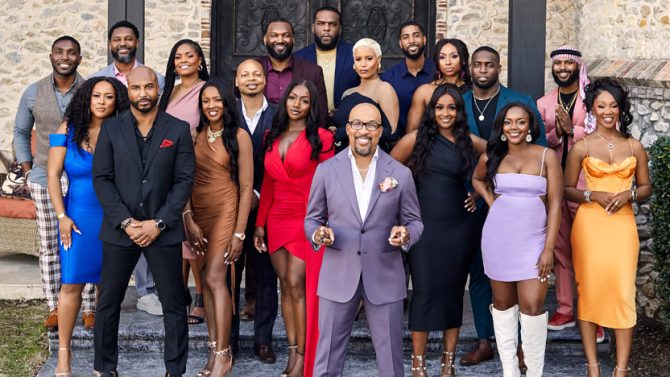 Hosted by Tommy Miles, "Ready to Love" features grown men and women in their 30's and 40's who are seeking the special relationship-of-a-lifetime that has eluded them thus far, and the baggage they each bring to the party is real. The old adage that "The course of love never did run smooth" is proven to be truer than ever when these eager singles come together to meet, date, cross-date, group-date and re-date, all in an effort to discover and claim "the one." This season, the romantic high drama is palpable from the moment that 18 attractive and successful women and men first set eyes on one another at the Mansion Mixer in Dallas that sets them all off on the bumpy road to love.
Judge Me Not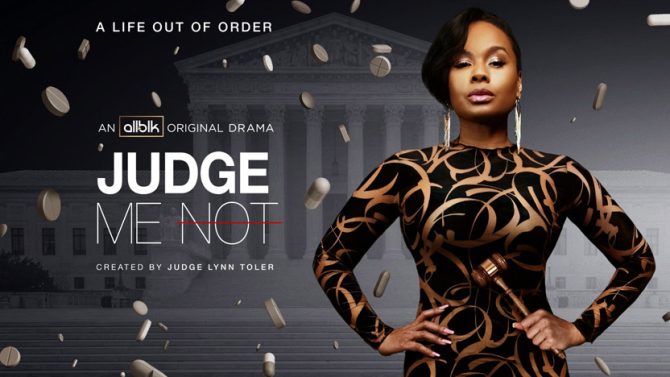 Loosely based on the life of the famed Judge Lynn Toler, Judge Me Not is the story of Zelma Jay Johnson (Chyna Lane), an exceptionally bright, young Black woman who struggles with mental health issues, a ludicrous family, and volatile love life. We join her as she takes on her new role as a judge in a court full of outrageous characters both in front of and behind the bench. As her passionate relationship with her live-in lover takes them both on a ride, she finds herself caught in the crosshairs of a psychological thriller that puts her life at risk. The series also stars Javon Terrell (2022 winner of ALLBLK'S national casting call "Shoot Your Shot" held in conjunction with the American Black Film Festival), Terrence Green, Jonathan Chase, Gena Shaw and Bonita Brisker.
Written and created by: Judge Lynn Toler | Producers : Eric Tomosunas, Gieava Stinchcomb, Nikki Love, Brett Dismuke, Ron Robinson, Keith Neal
Makeup x Breakup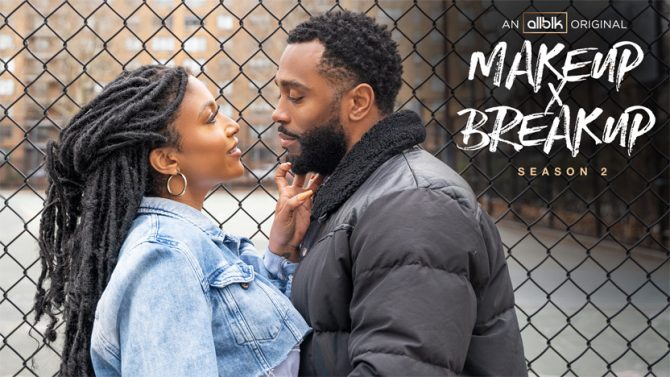 In Season 2 of Makeup x Breakup, both Brooke and Spencer work to adapt to their new environment. However, in a matter of months there's a shift with impulsive decisions causing turmoil in their personal and professional lives. Blake tries love again with Shannon and the two work to build a stronger foundation of trust. Meanwhile, Laura works to rebuild her self-confidence exploring a new relationship. In the end, will happiness work out in everyone's favor?
Written and created by: Eric J. Dickens | Producers: Tracey Tooks, Melvin Brown and Eric J. Dickens
The Conversations Project
Courtesy of Andscape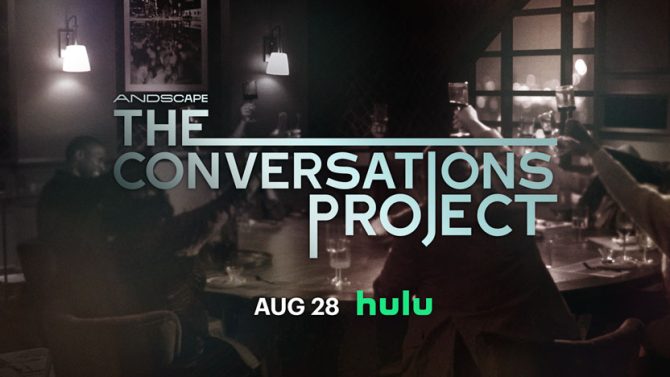 Exclusive sneak peek at Table 2.
The Conversations Project is a limited unscripted series of funny, fearless and far ranging dinner parties among some of the most prominent figures in culture, hosted by Elaine Welteroth, David Lawrence and Andscape's Senior NBA writer Marc Spears. Debuting on Hulu in August.
Guests: Shyne, Josh Johnson, Aja, BriGany Hall, and Solomon Thomas
Exposing Parchman
Courtesy of A&E Network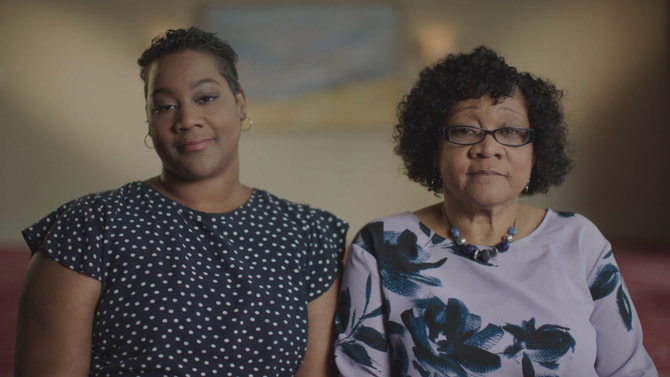 From A&E Network, Roc Nation, Good Caper Content, and Red Summer comes "Exposing Parchman," an investigative documentary that explores the efforts to reform the Mississippi correctional system led by a team of attorneys on behalf of the inmates of Parchman Prison. The film tells the inside stories of the families, the legal team, and Roc Nation across three years of legal battles to end the deadly conditions for those incarcerated at Parchman.
Director: Rahman Ali Bugg | Writer: Jeanmarie Condon | Producer: Jeanmarie Condon | Executive Producers: Rahman Ali Bugg (also director), Jordana Hochman, Jeanmarie Condon, Desiree Perez, Lori York, Elaine Frontain Bryant, Shelly Tatro, Brad Abramson. Alison Dammann serves as co-executive producer | Produced by: ITV America's Good Caper Content, Roc Nation, and Red Summer TV for A&E Network. A+E Networks holds worldwide distribution rights for "Exposing Parchman."