Spotlight Screenings
May 24, 2022
A Mother's Intuition
Courtesy of TV One Networks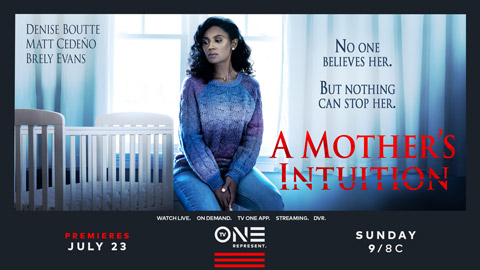 A young, pregnant woman grieving the sudden death of her husband is told that her baby was stillborn; but she suspects a switched-at-birth cover-up, implicating the very doctors trusted to care for her.
Cast: Denise Boutte, Matt Cedeño, Brély Evans, Hazel Renee, Tamar Braxton, Jeff Marchelletta and Karon Riley | Director: Cas Sigers-Beedles | Executive Producer: Dr. Holly Carter of Relevè Entertainment | Writer: Nicole D. Sconiers
Average Joe
Courtesy of BET+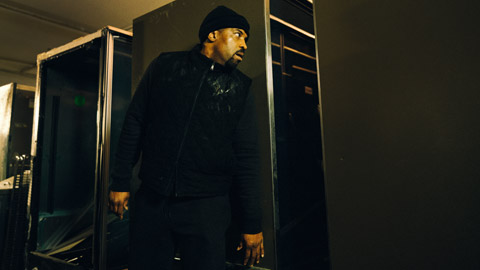 Inspired by the life of creator Robb Cullen, "Average Joe" is a darkly comedic, intense one-hour drama set in "The Hill" district of Pittsburgh. Blue-collar plumber, Joe Washington, discovers his recently deceased father lived a secret second life and stole millions of dollars from dangerous people just before he died. Now those people think Joe knows where the money is. A bloody and violent confrontation triggers a chain of events that force Joe and his close-knit circle of family and friends out of their very average and mundane lives into a life-or-death race against time to find the truth and the millions.
Cast: Deon Cole, Tammy Townsend, Malcolm Barrett, Cynthia Kaye McWilliams, Michael Trucco, Ashley Olivia Fisher, Pasha Lychnikoff | Directors: Eric Dean Seaton, Christoph Schrewe, Marshall Tyler, David Katzenberg, Joy T. Lane | Writers: Robb Cullen, Scott Boden Hodges, Tyrone Finch, Arthur Harris, Bryce Ahart, Hawa Macalou, Paul McLalin, D.J. Ryan, Stephanie McFarlane, Jerron Horton, Kevin O'Hare | Executive Producers: Robb Cullen, McG, Mary Viola, Corey Marsh | Produced by: Wonderland Sound and Vision
Chris Spencer Comedy Special:
DON'T CALL IT A COMEBACK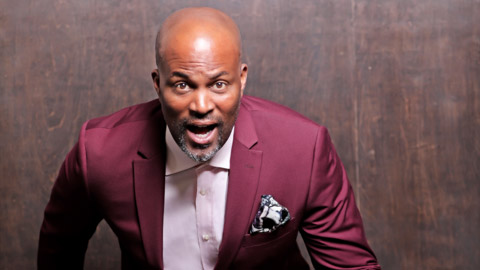 This comedy guru has worked with the likes of Kevin Hart, Dave Chappelle, Chris Rock, Wanda Sykes and Jimmy Kimmel on everything from the BET Awards to the Emmy's. This award winning creator of The Real Husbands of Hollywood and director of Back On The Strip starring Tiffany Haddish, Wesley Snipes, JB Smoove, Faizon Love, Gary Owen, and Bill Bellamy is here to give ABFF a first look viewing of his long over due comedy special.
Director: Mike Mihail | Executive Producers: Chris Spencer, Mike Mihail, Payne Brown, Buddy Lewis, Will Lowery | A Guerilla Hollywood Production | Director of Photography: George Chappell
Donyale Luna: Supermodel
Courtesy of HBO Documentary Films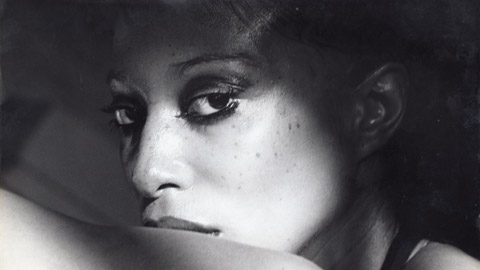 Donyale Luna: Supermodel explores the remarkable life and career of Donyale Luna, one of the first Black supermodels who graced the covers of both Vogue and Harper's Bazaar in Europe. Today, most people have never heard of her. Born Peggy Anne Freeman in Detroit, Donyale Luna went on to revolutionize the fashion industry in the 1960s and 1970s, becoming the muse to some of the foremost photographers of the 20th century until her untimely death at the age of 33 in 1979.
Cast: Dream Cazzaniga, Beverly Johnson, Omar Boone, Kyle Hagler | Director: Nailah Jefferson | Producers: Melissa Kramer, Isoul Harris, Melanie Sharee | Executive Producers: Jonathan Chinn, Simon Chinn, Jeff Friday, Dream Cazzaniga
Exposing Parchman
Courtesy of A&E Network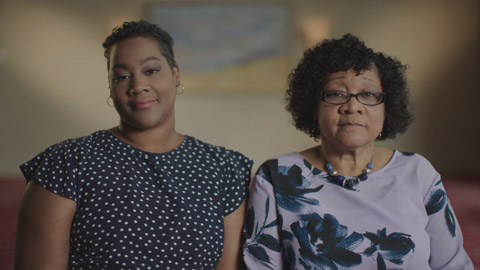 From A&E Network, Roc Nation, Good Caper Content, and Red Summer comes "Exposing Parchman," an investigative documentary that explores the efforts to reform the Mississippi correctional system led by a team of attorneys on behalf of the inmates of Parchman Prison. The film tells the inside stories of the families, the legal team, and Roc Nation across three years of legal battles to end the deadly conditions for those incarcerated at Parchman.
Director: Rahman Ali Bugg | Writer: Jeanmarie Condon | Producer: Jeanmarie Condon | Executive Producers: Rahman Ali Bugg (also director), Jordana Hochman, Jeanmarie Condon, Desiree Perez, Lori York, Elaine Frontain Bryant, Shelly Tatro, Brad Abramson. Alison Dammann serves as co-executive producer | Produced by: ITV America's Good Caper Content, Roc Nation, and Red Summer TV for A&E Network. A+E Networks holds worldwide distribution rights for "Exposing Parchman."
Found
Courtesy of Comcast NBCUniversal and NBC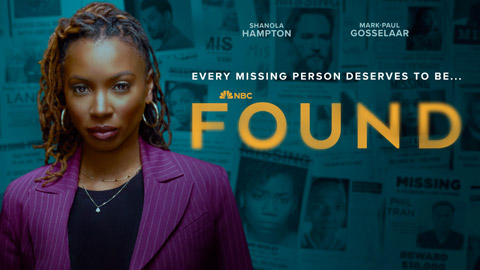 This twisty and timely drama follows PR specialist Gabi Mosely (Shanola Hampton) and her crisis management team as they search for missing people from marginalized groups who do not typically receive widespread media attention, as she was once one of the forgotten ones. But unbeknownst to anyone, this everyday hero is hiding a chilling secret of her own.
Cast: Shanola Hampton, Mark-Paul Gosselaar, Kelli Williams, Brett Dalton, Gabrielle Walsh, Arlen Escarpeta and Karan Oberoi | Creator: Nkechi Okoro Carroll | Showrunners: Nkechi Okoro Carroll and Sonay Hoffman
I'm a Virgo
Courtesy of Prime Video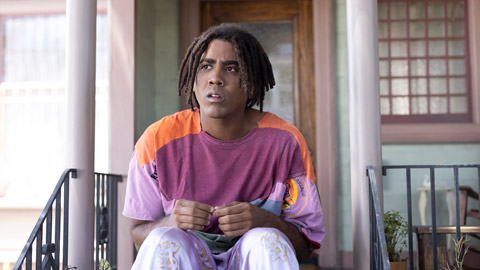 From visionary filmmaker Boots Riley, "I'm a Virgo" is a fantastical coming-of-age joyride about Cootie (Jharrel Jerome), a 13-foot-tall young Black man who lives in Oakland, California.
Creator, Writer, Director: Boots Riley | Cast: Jharrel Jerome, Allius Barnes, Brett Gray, Kara Young, Olivia Washington, Walton Goggins, Carmen Ejogo, and Mike Epps | Executive Producers: Boots Riley, Tze Chun, Michael Ellenberg, Lindsey Springer, Rebecca Rivo. and Jharrel Jerome | Showrunners: Boots Riley, Tze Chun
The Blackening
Courtesy of LIONSGATE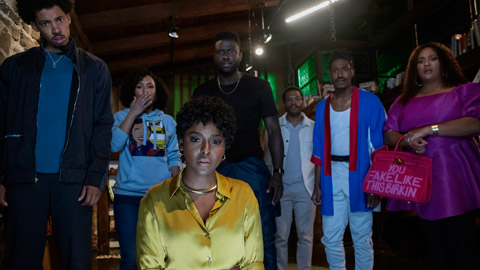 "The Blackening" centers around a group of Black friends who reunite for a Juneteenth weekend getaway only to find themselves trapped in a remote cabin with a twisted killer. Forced to play by his rules, the friends soon realize this ain't no motherf****** game. "The Blackening" skewers genre tropes and poses the sardonic question: if the entire cast of a horror movie is Black, who dies first?
Cast: Grace Byers, Jermaine Fowler, Melvin Gregg, X Mayo, Dewayne Perkins, Antoinette Robertson, Sinqua Walls, with Jay Pharoah, and Yvonne Orji | Director: Tim Story | Screenplay and screen story by: Tracy Oliver and Dewayne Perkins | Producers: Jason Clark, Marcei A. Brown, E. Brian Dobbins, Tracy Oliver, Tim Story, and Sharla Sumpter Bridgett | Lionsgate and MRC present, a Story Company / Tracy Yvonne / Artists First / Catchlight Studios
The Perfect Find
|
Courtesy of Netflix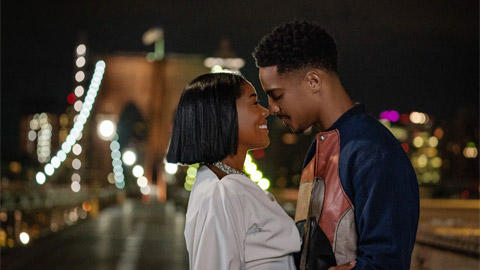 After a high-profile firing, Jenna's (Gabrielle Union) fashion career comeback hits a snag when she falls for a charming, much younger coworker (Keith Powers) who happens to be her boss' son. As sparks fly, Jenna must decide if she'll risk it all on a secret romance.
Cast: Gabrielle Union, Keith Powers, Aisha Hinds, DB Woodside, Janet Hubert, Alani "La La" Anthony, Gina Torres | Director: Numa Perrier from a screenplay by Leigh Davenport | Producers: Glendon Palmer, Gabrielle Union, Jeff Morrone, Codie Elaine Oliver, Tommy Oliver | Based on the book of the same title, by Tia Williams
The YouTube Black Voices Festival Showcase
Courtesy of YouTube Black Voices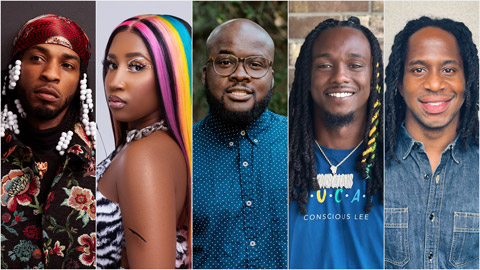 "The YouTube Black Voices Festival Showcase" features highlights of original short films from Black Voices creators. In Black Girl Day Off, Baby Tate wants Black women to take a day off and imagines how the world would crumble if they all did simultaneously. Armani White revisits his home and past mistakes in Proud of You. Conscious Lee explores the world of Black fine art through the lens of Afrofuturism. June's Crown, a short film by Glen' Beleaf' Henry, follows a young girl's journey to loving her hair.
They Cloned Tyrone
Courtesy of Netflix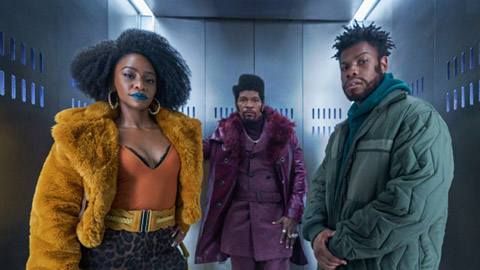 A series of eerie events thrusts an unlikely trio (John Boyega, Jamie Foxx and Teyonah Parris) onto the trail of a nefarious government conspiracy.
Director: Juel Taylor | Writers: Tony Rettenmaier, Juel Taylor | Producers: Charles D. King, MACRO, Stephen "Dr." Love, Tony Rettenmaier, Juel Taylor, Jamie Foxx, and Datari Turner | Cast: John Boyega, Jamie Foxx, Teyonah Parris
Three Ways
Courtesy of Andscape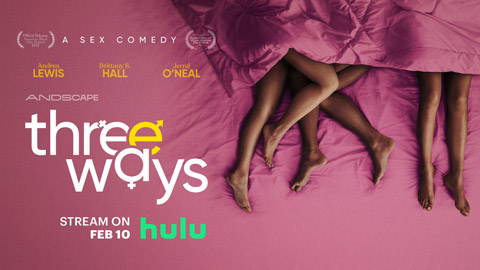 A sex comedy told in "Three Ways" … Sexually awkward Stacey Johnson decides to take control of her life, cancel her ex, and conquer her fears by having a threesome with her new beau and a mysterious woman she's never met. What could possibly go wrong? Previously titled "Threesome," "Three Ways" was an ABFF 2022 official film selection.
Cast: Andrea Lewis, Brittany S. Hall, Jerrel O'Neal Writer & Director: Jamal Dedeaux | Producers: Jaleel Ghafur, Rebecca Haze, Jamal Dedeaux
Time of Essence
Courtesy of OWN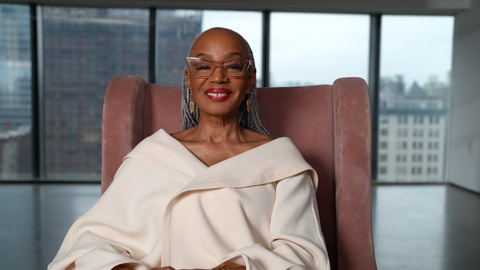 "Time Of Essence" is a five-part documentary series highlighting how ESSENCE Magazine has informed and reflected Black culture in America over the past 50 years. Each episode covers a different decade – from the '70s to today – and features first-hand commentary on that era's biggest moments from the icons, trailblazers, staffers, and leaders who lived and defined them. This candid commentary is coupled with never-before-seen footage and exclusive behind-the-scenes moments from the worlds of entertainment, sports, politics, fashion, and beauty.
Executive Producers: Christian Sarabia, Nicole Elliott, Raymond Garcia, Emmet Dennis, Sidra Smith, Barkue Tubman-Zawolo, and Stephanie Hodges-Dunivan | Produced by: 51 Minds and ESSENCE Studios, LLC